Video production
We work on any type of event: corporate, press conferences, fairs, conferences, meetings. Using infrastructures that can be integrated with any type of environment, we can always guarantee quality video streaming services. For those with special needs, we provide cross-platform live streaming services.
3 person crew and kit
- cameraman, sound & producer/director
- Single cam
- Multi Cameras
- Lighting kit
- Sound kit
We offer Sony fs5 (sogun recorder as optional) Zeiss Primes set (28f2/35 f1,4/50 f1,4/85 f1,4/100 f2/135 f2) follow focus 4 cards, batteries, etc sony a7s mk2 as b camera 2 tripods shotgun mic, and 2x lavallier wireless mics 2x stands and 2x led lights. The camera we will use will be Sony Fs5 with suitable slider.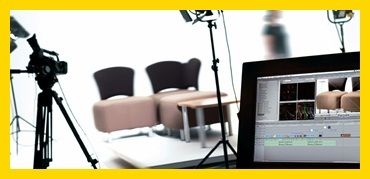 Panasonic P2, Sony XDCAM HD 422 & Red Cinema HD cameras, Lenses HD, Canon HD Prime lenses Zeiss Digi Prime Lenses, Digital Betacam. Specialises in sports events, concerts, television programs, news, documentaries, movies, movie-making industry and live events in general.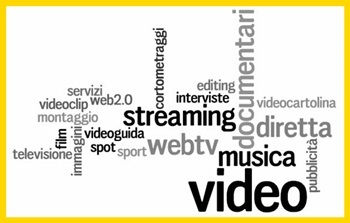 Livestream
Live streaming: an interactive streaming service that will allows your viewers to speak to you during live coverage. We can connect several points to one another, such as companies in two different nations, trade fair stands or clients half way around the world. They will be able to communicate in this way – live – using video and sound, as if different television studios were connected to each other This system is useful not only for classic events but also for those occasions when you really need your viewers to be involved on social network as Facebook, YouTube, Vimeo. Offers complete support and crews with Sony xdcam, Sony FS7, Canon C500, for Uplink 4G / Sat with "Zainetti" WMT Agile and LiveU for direct tv, streaming on social networks, internet and intranet in order to allow transfers or streaming in and from all parts of the globe.
Supplier
We are a leading supplier of 3D mirror rigs and stereoscopic equipment, high-end HD and 5K - 4K camera equipment, grip and lighting for feature films, TV and commercials. We have produced commercials, documentaries, graphic animations and corporate videos. We can't do something: fiction and video clips. We are just waiting for the right opportunity to test ourselves! Live events direction (conferences, shows, theater, performances), webinars and distance training (live or delayed) with HD recording, titling and transition effects. Connectivity with Ka-Sat satellite dish and 3g / 4g modem to transmit from virtually anywhere.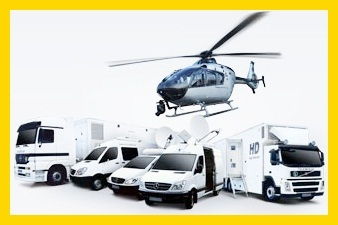 We are a video production company in Perugia producing creative and engaging promotional and event videos. Corporate video production services from €300.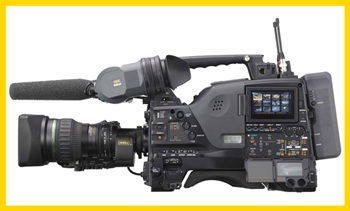 We are a multi award winning corporate video production company specialising in corporate commercial and broadcast. With over 20 years experience we can make sure your vision is made into a reality.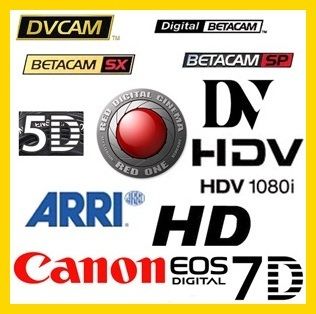 We are a company for media production in Italy, documentary, film production and shooting interviews in Italy, in addition to taking some beauty shots and special shots. We provide ENG / EFP troupes, TV and WEB live streams, mobile video editing, Ka-Sat SNG trucks.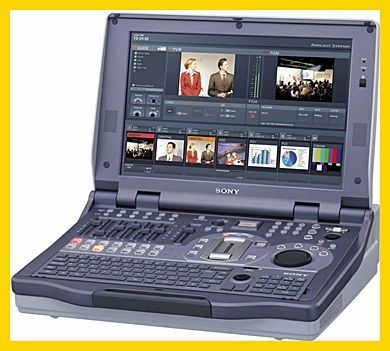 HD camera, lens package, batteries, cables, storage
media Tripod & fluid head Director's monitor Lighting package for interviews and
some interior shots Audio mixer, various microphones, headphones, cables Camera
operator Audio engineer Grip/gaffer Additional equipment Dolly
and track Steadicam and operator Crane & operator.
Mobile Video Studio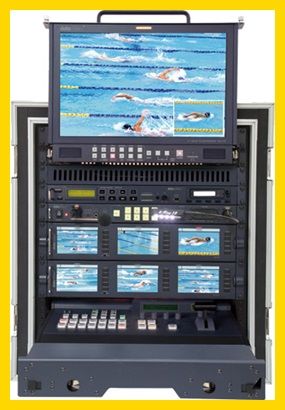 The Datavideo MS-1000 is a one box solution designed around the SE-1000 6 Channel HD / SD Video Switcher. The MS-1000 system provides the option to work in Standard Definition or full High Definition. The MS-1000 features 6 inputs (5 HD/SD SDI and 1 DVI/RGB) with 3 HD/SD SDI and Component (Y:U:V) outputs. RS-422 control & Ethernet connectivity and a built in & 10-bit & 6 Channel Frame Synchronizer that synchronizes all inputs without the need for Genlock (external Genlock synchronization also available).
To assist the producer during any live events & the SE-1000 also features 6 built in HD-SDI to HD-Y:U:V & SDY: U:V and Composite format converters & enabling loop through of each input for real time SD monitoring during production. The MS-1000 is an HD & SD solution for users that require a flexible & but at the same time affordable solution & perfect for & education & places of worship & internet streaming & Conferences and many more applications. The whole system is fully integrated with the ITC-100 for talkback / intercom & 2 x TLM-433 monitor banks and the TLM-170 main output monitor.The MS-1000 is the ultimate HD & SD Mobile Video Studio & a true one box solution for "Live In Seconds" with easy setup and break down at any location.
Light crew "shoot and go"
Sony Pmw F5 or FS7
with Zeiss primes (15mm/28mm/35mm/50mm/85mm/135mm) or Zoom Canon L (for FS7)
sxs card and reader
follow focus,
Cartoni tripod
matte box
v lock batteries
shoulder mount
+ sound operator full equipped
Steadi arm
Up to 12 meters 2 axis mobile head jib with 2 technicians.
Canon C300 avaliable.
We can offer a couple of Sony Fs100 (records in avchd 1080 30p) with canon adapters e canon zoom, with 2 tripod (small manfrotto with 500 head and bigger tripod with 504 hd head ), and small light kit: you can choose between 2x led light panel vlock powered, 2x small like lupo flourescent light or hmi light.
2x fresnel hmi 5600k (800w equivalent)
1x hmi bowens 5600k (500w equivalent) with softbox
3x stand; eletric plug and extension cord; or 1x1 led panel (we have 2x) 5600k battery powered (v lock); or lupo 6 tubes 5600k fluorescnt light (2x).
Hire camera
Sony PXW-FS7 - Canon EOS C300 Mark II - Sony PXW-FS7 M2 - Canon EOS-C300 - Sony PMW-F55 - Sony PMW-F5 - Sony PMW-350 - Canon EOS 5D Mark III - Canon EOS 5D Mark IV - Canon EOS C200 - Sony PXW-X500 - Sony PMW 200 EX1 XDCAM
Sony FS7 rental
We have a sony fs7 with v lock batter plate, (big v vlock batteries), shoulder plate v mount, cartoni tripod, 4 xqd card 64gb and reader. For the lenses, we have: the basic power zoom 18-105mm f4 the cine 28-125mm f4 power zoom a kit of zeiss primes (28/35/50/85/100/135) a few modern zoom 2.8 (11-16,24-70/70/200) and regular or speedbooster adapter. We have a lights set, from hmi fresnl, to lupo 6 tubes up to the v-lock battery powered leds.
Sony A7s Mark3 hire
One camera and 1 soundman/assistant with basic lights equipment with quality cameras (Sony FS5 or Sony A7s mark3 or Sony FS5 + Sony lens 28-135mm + tripod + 2 led panels Lupo bicolor + tungsten light set (all with stands) + tie clip mics + boom pole + HD monitor + Lastolite. Optional: Metabones con 16-35 + 28-105 + 70-200
Sony Fs5 rental
Avaliable Sony FS5 with Atomos recorder (if necessary), lenses kit, light kit, tripod, radio mic lavalier kit.
Set light
4x lupolight 6 tubes fluo 5600k 2x fresnel hmi 5600k 1x Bowen hmi with softbox 5500k 2x led aputure 5600k Stands. Light kit with stand, i have 4x lupolight 6x tubes (similar to kinoflo), or 2x fresnel hmi, or one bowens hmi small with softbox, or 2x aputure led lights with v lock adapter: all the lights 5600k.
Dollycrane
For the dolly, we have a floatcam dollycrane (see Youtube demo).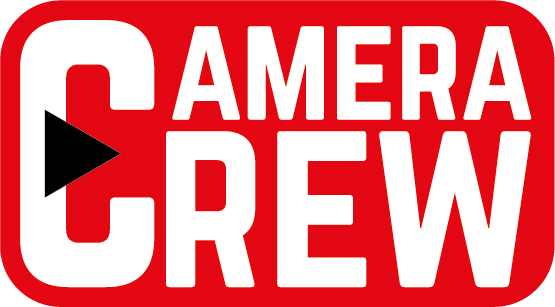 Video production
If you needs to be shot on a High definition broadcast camera with prime lenses.
Top quality, experienced crews and the largest stock of HD cameras in the Italy. Includes: Sony F65, Sony PMW-500, Sony PMW-F3, Sony PMW-EX3. Big range of grip, lighting and audio kit. We do multi-camera productions and work for Italy.
Cameras broadcast eng, digital news van 800 satlink, post-production, producteur video, ob van, betacam, live satellite television, mobile trucks events, video productions.
- Kameramodell: Sony DXC - D 35
- Kamerakopf: Sony DSP WS Power HAD
- Kamera-Mikrofon: Sony DSF - 801 CE
- DVCPRO 50 Recorder: Panasonic AJ D90E
- Sony Betacam SP -Recorder: Panasonic PVV - 3P
- Objektiv Canon 16 BCTVmit 16 fach Zoom
- Portabrace Trage-Tasche und Portabrace Regenschutz
- Weitwinkelvorsatz
- zwei Akkus (Marke "Anton Bauer" Powerpacks)
- Ladegerät (Marke "Anton Bauer")
- Netzkabel
Streaming service
Camera on SD (16:9 broadcast) + cameraman + assistant + tripod and audioset + lights and stands + ftp send Sony EX1 + tripod + 2 cards 32 giga + Sony hard drive for SXS cards
Sony FS100 NEX
Sony FS700 NEX
Each kit provides Canon zoom lens IS and Zeiss fast primes You can chose from this list: Zeiss Contax 28mm f2 Zeiss Contax 35mm f1,4 Zeiss Contax 50mm f1,4 Zeiss Contax 85mm f1,4 Zeiss Contax 100mm f2 Zeiss Contax 135mm f2 Leica r 180mm f2.8 Tamron 90mm macro f2,5 Yashica 50mm macro f2,8 Samyang 24mm f1,4 Samyang 85mm f1,4 Tamron 17mm f3,5 Zenitar 16mm f2,8 fisheye Peleng 8mm f3,5 circular fisheye Sigma 18-125 F3,5-5,6 Is Lensbaby kit 35mm/50mm + wide and tele adaptor Sigma 20mm f1,8 Tokina 11-16mm 2,8 Canon 24-105mm f4 is L Canon 70-2000mm f4 is L Nikon ais 50-300mm f4,5 Tokina 150-500mm f5,6
We provide tripod and baseplate for the camera, and field monitor.
The kit light is: 2x lupolux fresnel hmi daylight 800w equivalent 2x linkstar 150 bowens hmi 500 w equivalent 1x coolights led daylight
Audio guy kit is: mke 40 tascam dr40 sennheiser shotgun mic with boom
2-man film crew (camera operator, sound man, mobile light kit).
we offer the f5 kit with monitor and evf, shoulder support and tripod, follow focus and matte box.
we offer a fast primes Lens kit, mostly Zeiss lenses,you can choose six lenses from that list: 16mm f2/20mm f1,8/24mm f1,4/ 35mm f1,4/50mm f1,4/85mm f1,4/100mm f2/135mm f2/180mm f2,8 and 2 macro (50mm and 90mm).
Our technician will help you to setup camera correctly.
we have:
lupo flourescent light 6 tube (X2)
mini sliders
Mini led light battery powered
1x1 led panel battery powered
Senneiser wireless lavallier
Stand for light
Specialties: commercials tv, shows reality, shows concerts, motion pictures, music videos.
- HD Live Stand-up positions
- Play out facilities
- Interviews
- ENG crew
- News Package
Audio-visual services and facilities for TV-news: ENG and SNG crews, editing and post production, a complete production and research service, feed point, chroma-key live studios.
You are looking for a local team in Italy (cameraman who has his own equipment and maybe also a soundman) to do a short shoot.
You arelooking for a videographer (one person only) for a shoot in Milan or Rome.
You are looking for a two man crew (camera and audio/assistant) to shoot in Rimini