Specialist Jimmy Jib Extreme Triangle Stanton Service
12 meters Jimmy Jib with HD camera + jimmy jib operator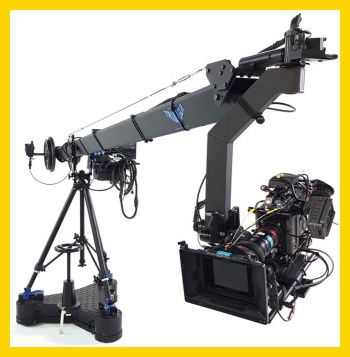 Camera Crane service
Our customized ABC crane is much more lightweght and easily to build and move through possible various set changing.
Here an example of a music video we shooted with our jib last year in
Bevagna and Assisi: we moved many times easily thorough the downtown
with ABC.
- Jimmy jib service for CBS program Sunday Morning to Florence see...
- The camera installed was a RED EPIC.
- Street Parade a Zurich in Switzerland live concert Show our partners.
- Jimmy Jib Italy see...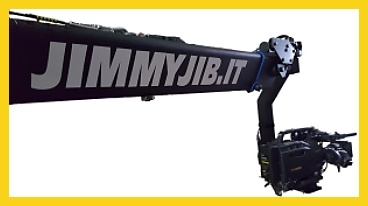 Jimmy jibs are widely used in television production in Italy and can equally be found in a studio game show, drama set or on location anywhere in the world. Camera Crew Italy is the ultimate and exceedingly reliable jib and camera operating company.
We have the crew, equipment, and the dynamics to provide a smooth work environment to create high quality productions.
We provides the perfect sized cranes for any type of production from feature films, commercials, music videos, reality shows, and concerts, to sports, corporate, and political events. Our systems support all types of connections including HD, Standard definition, etc. Particularly, the Jimmy Jib Triangle is our most popular portable crane for television and film camera support.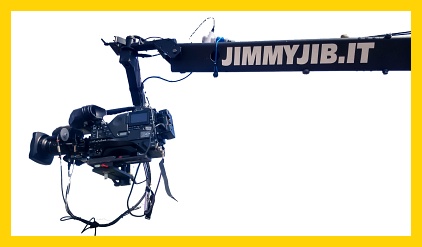 The Jib Triangle is available in sizes from 6 to 40 ft. with professional Jib Operators, tech crews and 24/7 on-site support that you can rely on. Our 24/7 commitment guarantees that we are available to respond to each and every request. We pride ourselves in our returning business. Camera Crew Italy is an company that is diversely talented to support the modernizing demands of today's media industry. The Crane Jib is mounted on a rolling tripod base and is assembled in modular sections so that its height and reach can be varied to suit the job. Most are owner operated which is a good thing because they are not easy to use unless you are asking for the most basic moves.
A good Jimmy Jib operator can perform outstanding camera moves with precision and really add value to a production whilst not costing the earth. And, should you need it, a great feature of the Jimmy Jib is its ability to spin the camera through up to 600 degrees of rotation.
Our Jimmy Jibs support all formats inc SD/HD, 16 & 35mm, Red etc & comes complete with HD monitoring & a complete set of electronic spares.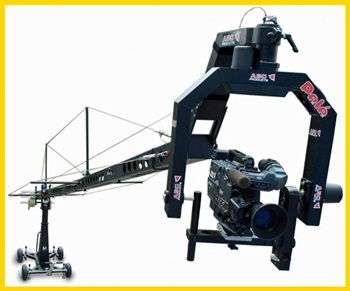 - Jimmy jib Stanton Triangle Extreme 30 feet or ABC Products 120 9.0 + set up/take down
- with focus puller
- with operator
Specialist Jimmy Jib Triangle Stanton Camera Support System
The Stanton Triangle Jimmy Jib 2 or 3 axis camera support system is precision engineered and a expertly manufactured jib arm system by Jimmy Stanton from Arizona, U.S.A.. This triangle extruded system allows 36 inch modular sections to be joined up to 30ft in length from the pivot section with a 50 lb camera payload. The Stanton Triangle Jimmy Jib is also versatile in both size and application, this system to hold 100lbs from 6ft to 18ft making it the best option for a light weight jib arm that can be mounted on its own 3 wheeled base, heavy duty tripod or any Mitchell mount with or without the arm of the dollies. This system is less expensive and can be controlled with a Joy Stick or Hand wheeled it useful to get long moving shots with a low budget. Common uses for it are for Music Video's, Sports, Documentaries and reality TV shows.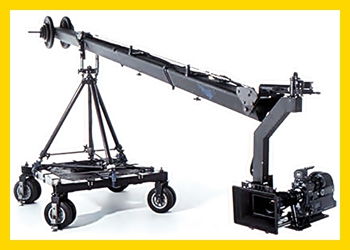 | | | | | |
| --- | --- | --- | --- | --- |
| MODEL | REACH | MAX HEIGHT | CAMERA CAPACITY | WORKING AREA |
| STANDARD | 6ft (1.8m) | 13ft (3.9m) | 50lbs (22.5kg) | 6ft |
| STANDARD PLUS | 9ft (2.7m) | 16ft (4.8m) | | |
| GIANT | 12ft (3.6m) | 19ft (5.7m) | | |
| GIANT PLUS | 15ft (4.5m) | 23ft (7m) | | 8.5ft |
| SUPER | 18ft (5.4m) | 25ft (7.6m) | | |
| SUPER 21 | 21ft (6.4m) | 27ft (8.2m) | | |
| SUPER PLUS | 24ft (7.3m) | 30ft (9.1m) | | |
| EXTREME | 30ft (9.1m) | 33ft (11.6m) | | 11ft |
Faq
What is a Jib?
In cinematography, a jib is a boom device with a camera on one end and a counterweight and camera controls at the other. It operates like a see-saw with a fulcrum in the center. A jib is useful for getting high shots, or shots that need to move a great distance; horizontally or vertically, without the expense and safety issues of putting a camera operator on a crane. The camera is controlled by a cabled remote control at one end, and at the other a super-responsive electro mechanic pan/tilt head (hot head) - allowing for smooth pans and tilts.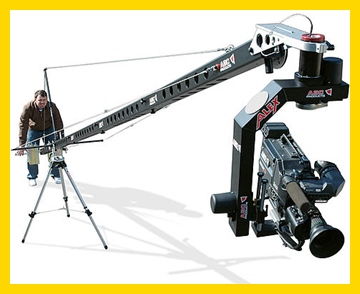 What is a Jimmy Jib?
The Jimmy Jib is a lightweight, modular camera crane system constructed out of triangular aluminum tubing. It has a relatively small pack-down size which allows for easy transportation and setup almost any location. Depending on the terrain of the location, the Jimmy Jib can be easily repositioned between shots, wheeled easily and quickly on smooth terrain or with provided time and care moved happily to another set-up point for rougher surfaces.
How high can the camera go?
Our Jib configurations can allow us to raise a camera to a lens height anywhere from 1.8 meters (6 feet) to 9 meters (30 feet), and depending on configuration requirements can support a camera up to the weight of 22.5 kilograms. This means any sort of camera, 4k or broadcast/video. See the diagram below for specifics.

The strength of the Jimmy Jib it is the "reach" of the crane arm that becomes the important factor in creating interesting and dynamic compositions plus allowing the operator to raise the camera above obscuring power-lines or animated concert goers - thus allowing for a clear, high wide shot if need be.
How low can it go?
With the "Triangle" Jimmy Jib set up in an "under-slung" configuration, the camera can be made to rest almost directly off the floor - making the minimum lens height about 20 centimeters (8 inches). Of course, if you're willing to dig a hole, cut away a section of the set or shoot on a platform this minimal lens height can be reduced.

How does the remote head work?
The remote head (or hot head) is operated with a joystick control panel. The controls are connected with a cable to the head, which contains fine pitch controlled electrical servo motors and gears. These are configured to allow the operator to pan, tilt and with an additional "slip ring", roll. This hothead is silent, allowing for effective operation in sound sensitive production environments.
How many people does it take to operate the Jimmy Jib?
Usually, two operators are required for the operation of the jib. One person "swings" (moves) the actual counter-balanced boom arm, whilst another operates the hot head. We supply all the operators / technicians required for operation of the Jimmy Jib.
How long does it take to set up a Jimmy Jib?
We will always ask you to allow one hour for a jib to be set up on a flat surfaced area, yet the jib is usually ready for operation in forty-five minutes. If the location is more hazardous, more time is required. It also takes around ten minutes to fit and balance the camera on the hothead.
Other our web www.jimmyjib.it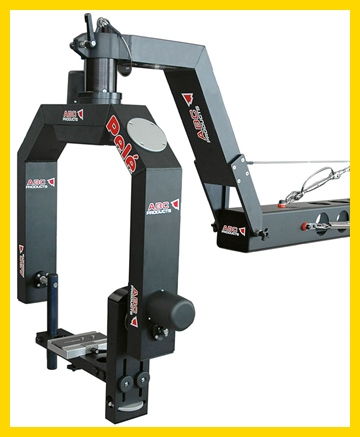 Remote lens control
If a Focus Puller is required to operate the lens control for focus/zoom/iris, you will need to check with them if they prefer a wireless or hard-wired control unit. For the hard-wired option, a 10 meter (30 feet) cable is the minimum requirement - as well as a video tap for the camera.


Can your jib really take a RED or Sony F5? The great advantage of cameras such as the Red and F55 is that they are modular, meaning they can be built up or down to suit different situations. This means we can accomodate these cameras on our jib, if configured to be within the maximum weight limit. Our Jib has a 4 pin XLR power line which means heavy batteries are not needed.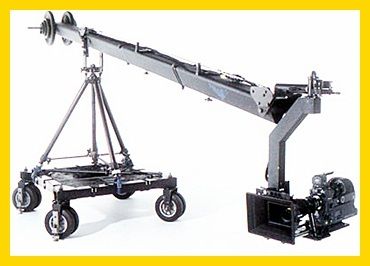 Which camera/lens do you recommended for use on your jib? Ideally a broadcast camera, such as the PMW-800 & a super-wide HD lens is a great combination for use on the jib.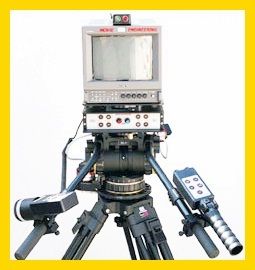 Can't I just rent a mini Jib? If you're looking to use a camera bigger than a DSLR Canon 5D, our Jimmy Jib is a good option.
How will focus and iris functions be controlled on cameras such as the RED & Sony F55? Generally the DP on the shoot will arrange a focus puller and remote focus kit.
Do you have a list of cameras your jib can support? There are a fair few cameras, from DSLRs, broadcast cameras to Digital Cinema Cameras that our Jimmy Jib can support. Please Email Us if you'd like to check if yours is supported. Our jib is best suited to broadcast cameras, where full iris, focus and zoom control can be achieved with Fujinon & Canon lenses.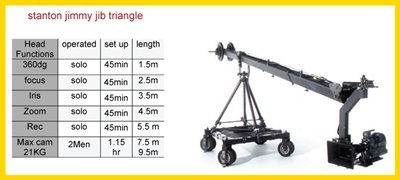 Jimmy Jib triangle Stanton Extreme Camera Crew specialise in providing the latest Jimmy Jib equipment and experienced jib operators.
Our credits list includes work for local and overseas clients and includes dramas, documentaries, commercials, music videos, entertainment & sport.
We operate the latest Jimmy Jib Triangle equipment to the highest safety standards and have an excellent track record for customer satisfaction.
Jimmy Jib Triangle Camera Crane Systems available for video and film production mounted on a wheeled base for easy relocation of the jib while rigged, making it extremely portable and flexible when a variety of shots are required from different positions.
Based in Perugia, Umbria – the jib systems are easily transportable and can be available anywhere in Italy.
Our partner Jimmy Jib Italy.
Seven Jib Compact XL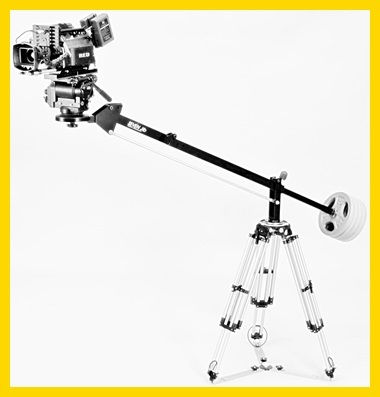 All the capability of the original SEVEN mini Jib but folds to just 33" in length!
100mm invertible bowl for over or underslung shooting
6.5' of lift (1'-2.5' more than all other in its class)
60 lbs total capacity
Mounts on 100mm bowl or Mitchell base
55" of reach
Built-in tilt lock
Uses standard barbell weights (not included) for counterweight
New radial needle bearing in base for super smooth swings
Quick release rod ends on parallel bar make for super fast set up





Jimmy jib Triangle rental Italy
stanton jimmy jib, steadicam, hdw-f500, matteboxes, hdw-f900, grip equipment, hdw-700a, film-style sony 24p, jimmy jib camera crane, flypack, cinealta, hdtv, Dollies Tripods Kino Flo Lighting for Video Panasonic Varicam Jib DVCProHD Studio Camera Operation Camera Experience Dolly Grip EX1 Single Camera Steadicam Canon XL2 Arriflex Lighting for Film HD Camera Operation Sony HDV Multi-camera Directing Camera Assistant
Camera Crew Italy specializing in Jimmy Jib robotic camera crane rentals since 2001. Our Jimmy Jib Triangle camera cranes able to carry from the largest of the broadcast cameras to High Definition (HD) all the way to mini cameras allowing us to be one of the most versatile, reliable, yet practical jib rental companies out there. We curently have local production offices in Florence, Milan and Rome.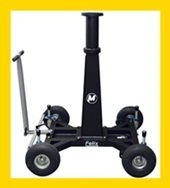 Seven Jib Compact XL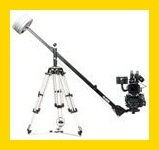 Is the most effective portable jib on the market. It supports up to 60 lbs but weighs only 20 lbs. Designed for use with your existing tripod and fluidhead the Seven Jib Compact is equipped with a duo base that rests on both 100mm and Mitchell topped tripods.
Jimmy Jib Triangle Extreme
The Jimmy Jib has equipped itself with is a 12 meter, provided with a two axis remote head system, particularly versatile, suitable both for small productions and for sporting and big productions. Belonging to the family of camera cranes with remote head, the Jimmy Jib Stanton is undoubtedly the most versatile and light model. The system offers a series of advantages which can be resumed as follows: the extraordinary handiness for transport and therefore the possibility to reach inconvenient places and locations; the extreme versatility, thanks to the possibility to choose it in different configurations, the right length of crane, which can be shortened or lengthened based on the need of the current shot, the circumstance that it is designed to be operated by a single operator as well as by both an operator and an assistant grip; the light weight movement making it suitable for changes to the original setup with little waste of time. The remote head permits 360° 'pan' and 'tilt' movement, controlled by a simple joystick, thanks to the slip –ring technology. The system includes a wide range of zoom remote controls dedicated to all professional optics and broadcast Canon and Fujinon. A single cable allows the connection among all signals: 1 Triax, 2 video, Time Code, Genlook, Connessione Lanc for DvCam, supply and optics control . Speed and acceleration regulations allow to ensure fluid or speed movements based on specific needs of the current shot.
40ft. Stanton Triangle JimmyJib. All Jibs have had oversize tilt cogs fitted for increased tilt accuracy and focus mods for more accurate focusing. JimmyJib's are supplied with the following: Fuji HA 13 Super Wide Lens with Internal Servo Focus, modified for jib use 17" Sony OLED Hi Def HDSDI / HDMI Monitor 17" Panasonic HiDef Multiformat Monitor 7" HD Monitor 9" Sony SDI Monitor 14" HiRes Monitor 7" Panasonic LCD Monitor 3 Wheel Base with Studio.
Avaliable a crane with 2 axis remotable head that could be setted on 3 o 5 or 7 or 9 meters: we should know before the shooting what lenght we should prepare.